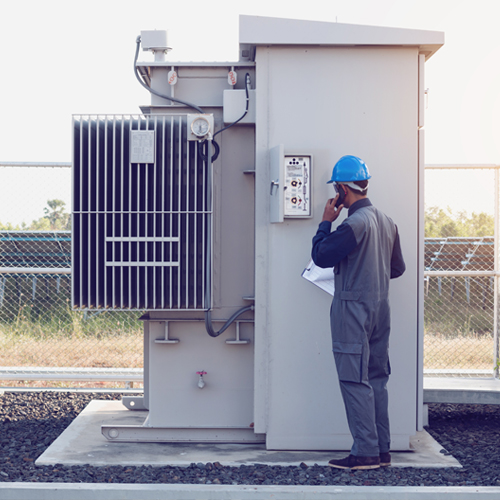 AMC Coverage
Transformer is the most expensive & the most critical asset in the electrical system. It becomes very important to get the Transformer Routinely Serviced by the Specialists. For a Trouble-Free Operation & Uninterrupted Power Supply, We Recommend the user for the AMC services.

The AMC plans are Tailor-Made after Identifying & Accessing the User's need. Monthly, Quarterly, Bi-Annual, Annual Service Visits are planned to Identify all the Weak Areas and Rectify them before the problem becomes a Catastrophic Failure Resulting in Heavy Losses.

With over Two & A Half Decades of experience in O&M of Transformers. The user can stay assured that our recommendations are reliable and our services are unmatched.
Benefits Of Amc For Transformers :
Increases the life of your Transformer
Better Returns on Investment. (The AMC Cost comes out to be less than 1% of the Transformer's cost).
Cost-effective In case there's damage, repairing cost will be very less than the cost of new Transformer Regular maintenance of Equipment will ensure no major damage occurs for a longer period.
Healthy life of your Sub Station. Your Electrical Substation is a major and costly part of any Electrical transmission & distribution system. A healthy transformer can assure a healthy electrical system.
Optimum performance by your Electrical equipment.
Asians standard AMC plan :

Mechanical Checklist :

Transformer External Body Cleaning & Nut-Bolt Tightening.
Inspection for Oil Leakages. Re-Gasketing to stop Oil Leakage if any.
Inspection for Cracks in Bushing, Bushing Replacement if required.
Inspection of Oil Level both in Main Tank & OLTC Tank, topping up if required.
Inspection of radiator valves, drain valves, sample valves, etc for proper operation.
Check Ventilation for Indoor Transformer.
Check colour of Moisture Absorbent Silica Gel, Replace it if found Pink.
Checking of the accessories like Explosion Vent, Breather etc.
Check Radiators ventilation for proper cooling.
Inspection of OLTC.
Overhauling/Internal Cleaning of OLTC, remove sludge if found.
Observe all Contacts & Consumables in OLTC for Wear, Replace if signs of heavy Arcing or Pitting.
Filtration of Transformer & OLTC Oil, if required after oil analysis.
Painting of Transformer, If found Rusty.

Electrical Tests Performed on transformers :

Inspection & Testing of Earth Pits for Earth Resistance Values.
Checking & Testing of Protective Gear like WTI, OTI, Buchholz Relay, MOLG, OSR, PRV, Etc.
Performing Routine Tests on Transformer like IR value, PI, DAR, MBT, MCT, TTR, Voltage Ratio, Winding Resistance, Vector Group Etc.
Check the Auto Operation of OLTC.
Checking the Functioning of TPI, AVR Relay in RTCC Panel.
Analysis of Insulating oil for BDV, DGA & other 11 parameters, Oil Filtration or Replace Oil if results not compiling.
Thermal imaging of hotspots in transformer
Reporting Of any abnormality during operation
Asian Electrotech Industries LLP
Since 1996, Asian Electrotech Industries LLP has been serving the Indian Power Sector. With more than 25 years in the industry, AEIL has the technical expertise in erection, testing, commissioning & maintenance of electrical substation up to 66KV.