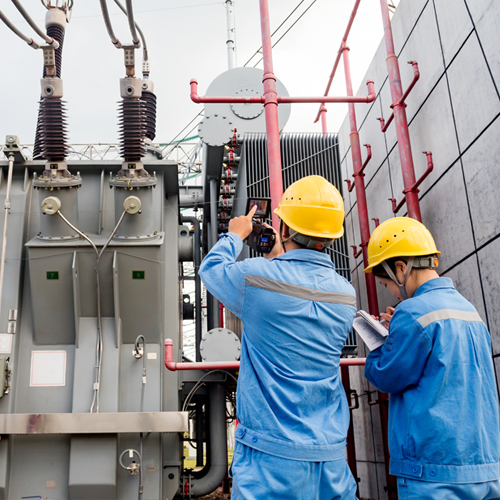 Thermography Audit
Thermography Testing for your Switchyard, Transformer, Electrical Panels by Asian Electrotech Industries LLP.
What is Thermography? :

Thermography is a loss prevention technique of analyzing the thermal characteristics of an object from its infrared image, captured through non-contact thermal imaging device.
We are able to see heat energy radiated by objects through infrared thermography.

How Thermography is Useful? :

Temperature is that the 1st noticeable parameter that indicates the operative electrical equipment's condition. Heat could be a by-product of all work whether or not is it electrical, mechanical or chemical.
We can detect the temperature of the object from the thermal energy emitted.
We can immediately detect an overheated wire in the mesh of wires and terminals, which is impossible to see with naked eyes through thermography.
We can minimize injury, liability, damage, catastrophic failures and downtime of the organization through thermography inspection. An effective condition monitoring maintenance strategy should include a thermography inspection annually.

What are Thermal Imaging Applications? :

In Switchyard : The sun radiations have the potential to increase the temperature, which result in failure of the system. Thermography survey is required to detect this.
For Transformers : We can detect the oil level, connection tightness and radiator convection cooling problems through Infrared imaging.
At the Electrical Panels : We can detect Inductive heating, hot busbar, overloaded circuit & many undesirable electrical situations through thermography.
For the Batteries : We can detect the individual faulty cells by measuring the temperature without contact through thermography.

Broadly the following can be observed :

Loose connections & terminations.
Oxidation at the cable termination points,
Dust particles at terminations,
Defective crimping of cable, overloaded or un balanced circuits,
Faulty breakers, damaged switches, faulty fuses and other hazardous electrical conditions.
Oxidation at the cable termination points,
Contact Asian Electrotech Industries LLP, for our Thermography Services for real-time condition monitoring and discover how you can achieve greater reliability, greater efficiency and greater safety.
Asian Electrotech Industries LLP
Since 1996, Asian Electrotech Industries LLP has been serving the Indian Power Sector. With more than 25 years in the industry, AEIL has the technical expertise in erection, testing, commissioning & maintenance of electrical substation up to 66KV.