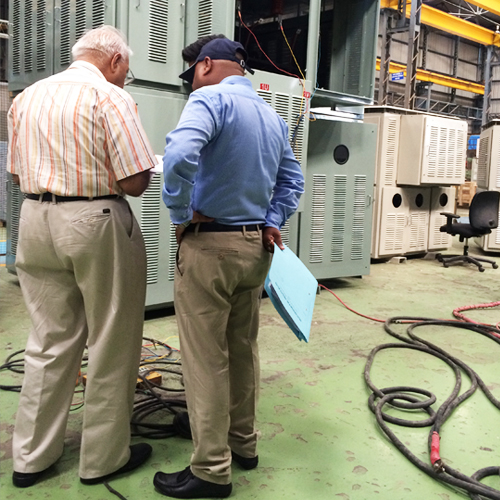 Transformer Testing
AEIL's Testing service offers a very comprehensive range of diagnostic tests to assess the healthiness of a transformer. Results can be used to identify transformers at risk of failure, to improve performance and extend life of transformer.
Comprehensive electrical testing is offered to our customers which include :

Insulation Resistance (Megger).
Polarisation Index & Dielectric Absorption Test.
Transformer Turn Ratio.
Voltage Ratio.
Polarity and Phase Relation.
Winding Resistance Test.
Vector Group Test.
Magnetic Balance Test.
Magnetizing Current Test.
Oil Dielectric Strength.
OTI/WTI/Bucholz Relay/OSR/MOG Tests.

Business benefits? :

Develop Health Indices to estimate end-of-life of Transformer.
Identify transformers at risk of failure.
Prevent expensive and disruptive failures.
Minimise replacement costs.
Check condition following fault conditions or overloading.
Extend transformer life & Improve loading capabilities.
Improve decision making for future load requirements.
Improve safety.
We provide certified test reports based on standards established by Electrical Research & Development Authority (ERDA), Bureau of Energy Efficiency (BEE) and the Institute of Electrical and Electronic Engineers (IEEE).
Asian Electrotech Industries LLP
Since 1996, Asian Electrotech Industries LLP has been serving the Indian Power Sector. With more than 25 years in the industry, AEIL has the technical expertise in erection, testing, commissioning & maintenance of electrical substation up to 66KV.