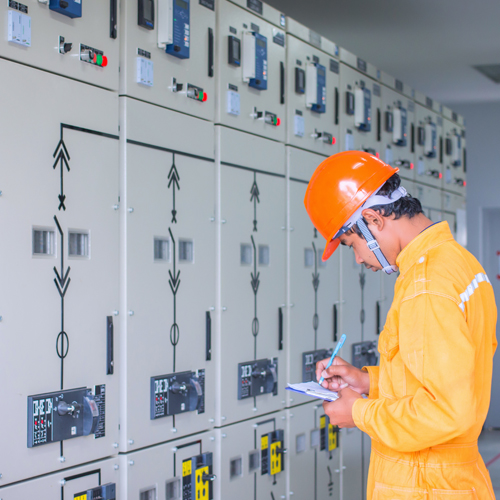 Electrical Safety Audit
Electrical hazards continue to threaten human safety and Plant Assets in the form of Shocks, Burns, Injury, Fire and even Explosions. Having electricity become a core part of our life, electrical risks have to be managed effectively.

Electrical Safety Audit is a organised approach to evaluate potential electrical hazards and to advocate suggestions for improvement. The scope of our electrical safety inspection includes the review and identification of major electrical safety issues & to provide recommendations for remediation based on applicable standards specified by the AEI.
The Audit Scope :

Verification of Compliance with respect to Indian Electricity Rules/Central Electricity Authority/NFPA Guidelines.
Physical survey & inspection to identify electrical hazards to suggest electrical safety solutions.
Inspection & Review of the Plant's Lightning Protection System (Guidance on the need, adequacy, installation and maintenance).
Inspection & Review of any Electricity Hazards in the plant operations.
Inspection & Review of hazardous area classification and selection of flameproof electrical equipment in the plant, including maintenance aspects.
Review of the Electrical Preventive Maintenance of the Electrical Installations. (Including documented test reports of the Transformer, HT/LT Panel, Relays, Earthing system etc).
Review of any electrical failures or accidents to identify the root causes.
Review of the importance given to electrical safety in the company safety policy, safety committee, continuous electrical risk identification, etc.
Assessing & Reviewing the insulation quality of cables by carrying out insulation resistance tests on a sample basis.
Assessing & Review of the earthing system by carrying out earth resistance tests on a sample basis.
Identifying areas of Overloading by carrying out Current Load Measurements & reviewing it against Cable Current Carrying Capacity Calculation.

The Process :

Pre-Audit Questionnaire
Audit
Physical Inspection
Tests
Discussion
Document review
Management Briefing
Draft Report Submission
Final Report Submission
Asian Electrotech Industries LLP
Since 1996, Asian Electrotech Industries LLP has been serving the Indian Power Sector. With more than 25 years in the industry, AEIL has the technical expertise in erection, testing, commissioning & maintenance of electrical substation up to 66KV.