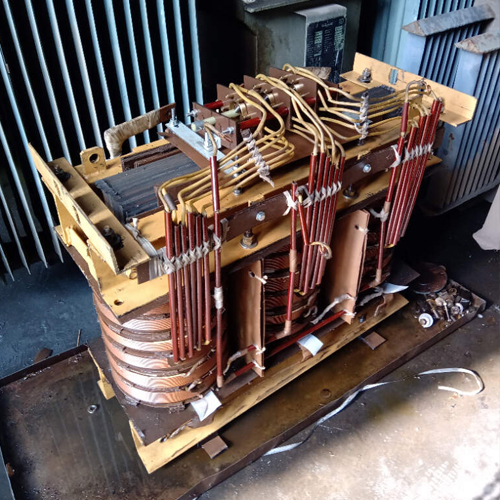 Transformer Overhauling
Overhauling of a Transformer is recommended every 5 years for 1-3MVA Transformer & every 7 Years for 3MVA and above rating Transformer as per the IS 2026 & IEEE Standards. The basic purpose of Transformer overhauling is to assess the internal parts of transformer & replace the worn out/damaged parts to increase transformers life & performance.
Retightening of clamp structure & Washing of core coil assembly by fresh oil.
Cleaning of the core coil assembly and removal of sludge impurities to avoid hotspots in the core and the windings.
Removal of moisture from oil to prevent deterioration of the cellulose insulation and monitoring the Degree of Polymerisation (DP) of Paper
Improvement in the insulation parameters like polarisation index (PI) & Tan Delta.
Functional checking of supervisory devices like Buchholz relay, PRV, OSR, MOG, OTI, WTI etc. Overhauling of OLTC/OCTC, Fans, Pumps etc.
Asian Electrotech Industries LLP
Since 1996, Asian Electrotech Industries LLP has been serving the Indian Power Sector. With more than 25 years in the industry, AEIL has the technical expertise in erection, testing, commissioning & maintenance of electrical substation up to 66KV.