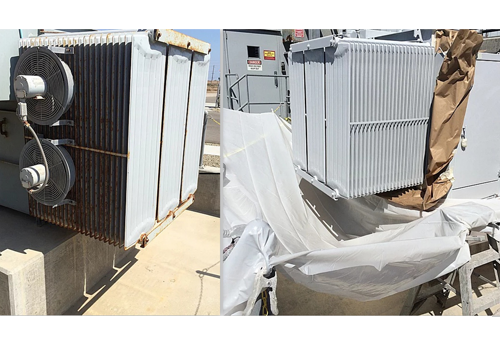 Transformer Body Paint & Reconditioning
The key components of the transformer are built to last for a long time. However, the opposite is considered for transformer coating. Weather conditions, Oil Leakages causes corrosion on the transformer coating. It is therefore important to schedule repainting maintenance on a routine basis which helps extend the transformer's body life.
We provide On Site Transformer Body Painting. No matter how rusty your equipment is. We can re-paint your equipment and make it look like a new one. Process includes :
All existing rust is removed wherever found and treated with a rust preventer.
Then a primary coat is applied via a spray gun on the transformer.
Auxiliary Parts such as Pressure Release Valves, Name & Rating Plates, Gate valves, Breathers, etc are masked to prevent painting & removed after paint has dried.
Double Coating Flow painting is done for durability. Over 100 Microns Each coat.