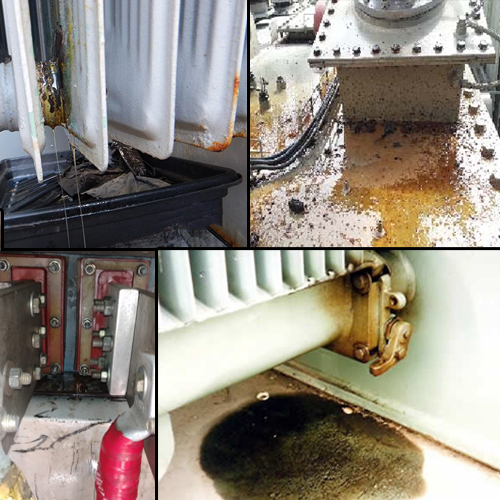 Leakage Arresting & Re-Gasketing
Conservator Tanks, Radiators, Bushings, etc may develop oil leaks, especially at connections. Thus, a Gaskets & Seal play a very vital role in sealing system between joints. Gasket leaks are developed over a period of time due to improper torques, poor quality gasket material, improper size gaskets & mostly wear and tear.

Oil leakages can result in heavy loss of oil, oil contamination in transformer, loss of insulation & sometimes even explosion of transformer, if left unattended.

Treat Leakages Immediately, to avoid Catastrophic failures & damages to asset!
Contact AEIL for Leakage Arresting of your Transformer.
Asian Electrotech Industries LLP
Since 1996, Asian Electrotech Industries LLP has been serving the Indian Power Sector. With more than 25 years in the industry, AEIL has the technical expertise in erection, testing, commissioning & maintenance of electrical substation up to 66KV.