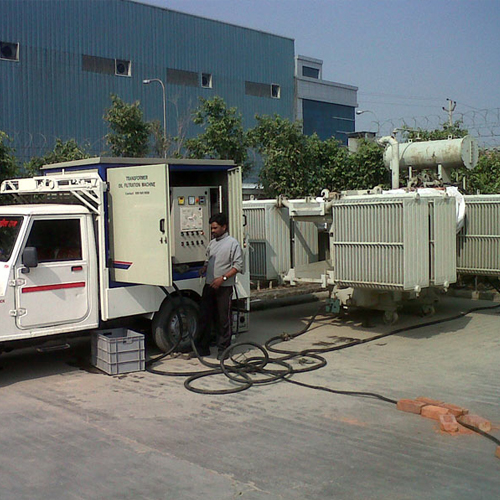 Transformer Oil Filtration & Dehydration
Transformer is the main asset in the power industry which needs to be maintained for guaranteed uninterrupted power transmission in order to get smooth running of plant. Transformer's lifespan mainly depends on the insulating Oil Quality. A Regular transformer oil Dehydration & Filtration assures long and consistent results from the transformer.

Dehydration & Filtration Process eliminates solid impurities like sludge, moisture and dissolved gases from the oil, & also improving the acidity of the oil.

A good quality insulation oil keeps the paper/cellulose insulation healthy. Better the insulation of transformer, longer the life of the transformer and fewer the breakdown of the transformer. The Longer the life of the Transformer Asset, good returns on investment of the asset. Lesser breakdowns and failure of the transformer also results in uninterrupted power supply

Our fleet of vacuum oil Purifiers are mounted on mobile trailers for on-site field work at Grids, Electrical substations, industries, buildings and where transformer maintenance is needed. No matter how secluded the location of your transformer might be, We assure you to arrange our mobile filtration plant and provide On-site oil filtration and maintenance. Besides Oil Type Transformers, our Filtration Plants can maintain oils used in other electrical equipment's such as, Oil Circuit Breakers, Oil Switches, Switchgears, Regulators, Reactors, some types of high-voltage capacitors, etc.
With the collective experience of over 25,000 transformers serviced & a billion Litres of insulating oil tested and processed, the user can be assured that our recommendations are reliable and our services are unmatched.
Asian Electrotech Industries LLP
Since 1996, Asian Electrotech Industries LLP has been serving the Indian Power Sector. With more than 25 years in the industry, AEIL has the technical expertise in erection, testing, commissioning & maintenance of electrical substation up to 66KV.