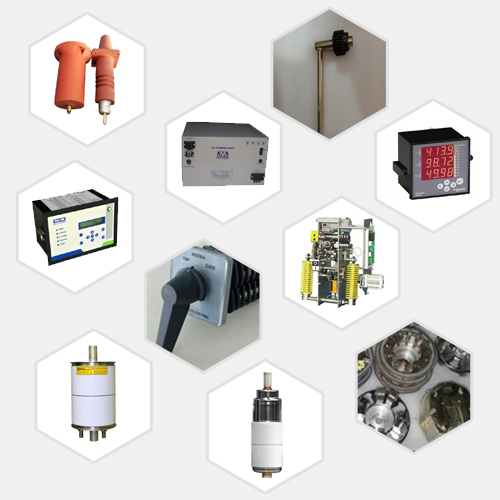 Breaker Panel Spares
AEI is fully geared to supply of all ratings, makes, models of circuit breakers, relays, panel accessories and all other parts. Spares are procured and checked as per standard quality norms set by us. Spares are procured from approved sources m Minimum cycle time through planning, foresight, focus and thrust. AEI has complete stock of HV/LV Breaker spares of all Makes like L&T, CG, ABB, Schneider, Siemens, etc. All Spares & Accessories Are Available With Us Like:
OCB/VCB/SF6 Breaker Spares
Vacuum Interrupter Bottle
Jaw Contact
Moving Contact
Fixed Contact
Credle Contact
Pole Assembly
Trolley Bushing
Housing Spout
Seperator
Support Insulator
Cradle Terminal
Arc Chute
Charging Motor
Operating Handle
Shutter Mechanism
Closing Coil
Tripping Coil
Ht / LT Panel Spares & Accessories
IDMT Relay
Auxilliary Relay
Trip Circuit Supervision Relay
Master Trip Relay
Earth Fault Relay
Under Voltage / Over Voltage Relay
Instataneous Differential Relay
Restricted Earth Fault Relay
Reverse Power Relay
Negative Sensitive Relay
Inbuilt Release For ACB
LED indicator
Annunciator Panel
Multifuctional Meter
Amper Meter / Voltage Meter
Frequency HZ Meter
Kwh Meter
Charging Motor & Its Gear Mechanism
Buzzer / Hooter
Auxiliary Contacts
Space Heaters
Thermostate
C.T. (11KV Ct / 33KV PT)
P.T. (11KV PT / 33KV PT)
P.T. Fuse
Asian Electrotech Industries LLP
Since 1996, Asian Electrotech Industries LLP has been serving the Indian Power Sector. With more than 25 years in the industry, AEIL has the technical expertise in erection, testing, commissioning & maintenance of electrical substation up to 66KV.