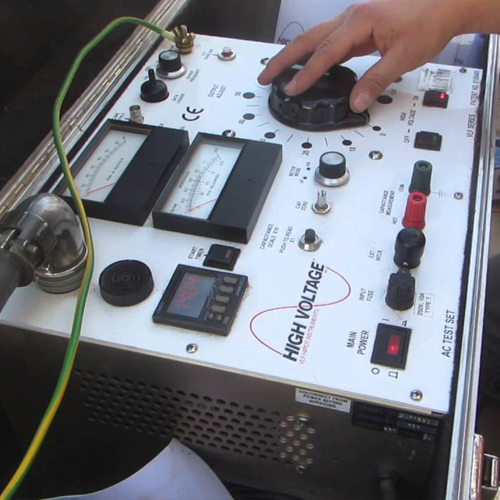 Hi Pot Testing Service
-HV/LV Cable, Safety Mats, Gloves, Shoes
HiPot Testing Services by the Experts
the insulation for cable or any other equipment is defective or not performing as expected, the results can lead to power leakage or short circuits which may cause the motor to fail or damage it. Another major danger of defective insulation is the risk of shock to anyone who comes in contact with that Cable. Thus a Hipot test is conducted to test the stress of the cable for safety and quality purposes.

A Hipot test is a non-destructive test which uses a high voltage current to "flow" through the insulation to make sure that it doesn't break down and cause any leakage current.

AEI is fully equipped with Calibrated Instruments & Competent Test Engineers. We undertake DC Hipot Tests on HT/LT XLPE Cables, Insulated Rubber Mats, Insulated Safety Shoes, Insulated Rubber Gloves, etc.
Asian Electrotech Industries LLP
Since 1996, Asian Electrotech Industries LLP has been serving the Indian Power Sector. With more than 25 years in the industry, AEIL has the technical expertise in erection, testing, commissioning & maintenance of electrical substation up to 66KV.