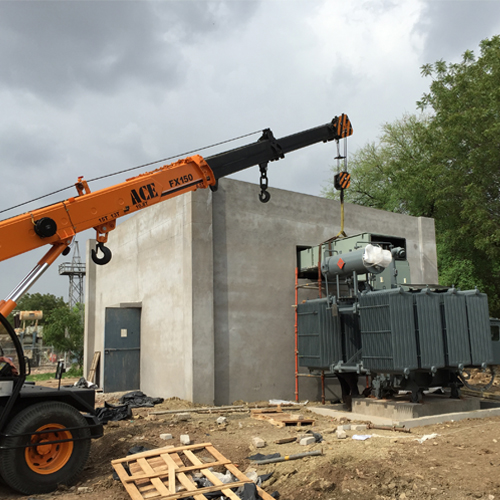 Erection & Commissioning
Whether you are installing a brand new, Repaired or Even Refurbished unit or if there is a reallocation of an existing unit. AEI offers a total solution to meet your needs including Transportation Logistics, Loading/Unloading onsite, Erection, Testing, Pre-commissioning & Full Commissioning of Transformer.

With over Two & a Half Decades of Experience in Erection & Commissioning of Transformers all across India. We consider ourself Specialised in Station Erection, Testing and Commissioning of Sub Station. This can also be tailored to your needs at your site.
| | |
| --- | --- |
| Removal : | AEI is experienced with the Decommissioning and Disposal of Power & Distribution transformers. We can field test and dismantle any size transformer. |
| Logistics : | Transformer transportation is a process requiring highest attention to detail as it bears impact on reliability, cost and delivery cycle. Our objectives are simple: To minimize the risk of damage, and reduce transit time. |
| installation : | The installation of Transformers is one of the most common, yet complicated, installation practices requiring detailed handling. Asian can provide the Assembling of Transformer Including Bushing, Radiator, Relays, Marshalling Box installation, Insulating Oil Processing, Electrical Testing & Final Commissioning. |
Both Indoor & Outdoor Transformers are Installed by following the Guidelines issued by the OEM's, IS Schedules, Electrical Safety Department.
Asian Electrotech Industries LLP
Since 1996, Asian Electrotech Industries LLP has been serving the Indian Power Sector. With more than 25 years in the industry, AEIL has the technical expertise in erection, testing, commissioning & maintenance of electrical substation up to 66KV.